This got to be a very long post. I've divided it into two for convenience. Here's the tour from Canton to Kanapolis Lake. (probably the longer half.)
Saturday, August 18, was road trip day.
I am not Jack Kerouac. I do not have any secret heroes to my tale. Despite that, Saturday we set out On the Road to find what was waiting to be found. Perhaps it was karma, or fate or kismet or call it what you will, but it was a perfect day for a road trip.
The weather was cloudy. That was a plus after this week of one hundred degree days. Every day so stinking hot you can't hardly bear the heat. Every day so hot that you're begging for shade as soon as you start working. Water. Shade. Shade. Water. That's the week past.
Saturday was different. Cloudy. A light rain had already pocked the dust on the Volkswagen's windshield. The rear window was so thick with the dust of the week that mere drops couldn't melt the grey brown coating.
We headed east in order to go west. Today was the day to test the newly designated Scenic Byway, and we had to get to Canton to begin our trip.
Beautiful Galva lies between us and Canton. Of course we had to stop in Galva.
I know of two Galvas in America. The other Galva, a place I visited every year while I lived in Chicago and danced with the Chicago Nordic Dancers, lies just outside Bishop Hill, Illinois. We went to Bishop Hill. I have photographs proving we went to Bishop HIll, but that's another story and a long time ago and I still wonder if there is a relationship between Galva, Kansas and Galva, Illinois, and Gefla, Sweden. I know the relationship between Gefla and Galva, Illinois. What of Galva, Kansas? I do not know. We stopped. Antiquing. A Minnesota commemorative plate called out to us. Three dollars. We bought it, toured town, continued to Canton with just a ten minute detour.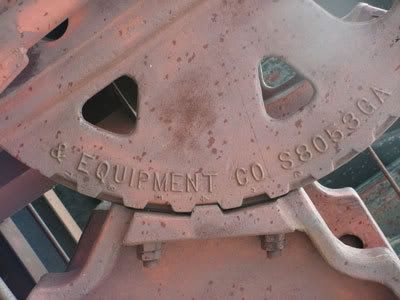 At Canton the Scenic Byway begins, heading straight up Main Street. At the junction of Main Street and US 56 someone, several someones, have parked the detritus of industrial development. It is an oil pump graveyard. I'm a sucker for industrial ruins.
Rest rooms in Canton, if you need them.
At 10:52 we began our northwest passage.
Seven miles north of Canton is the first possible detour, a west bound road will take you into Maxwell Wildlife refuge. We passed on the possibilities, since this was our first, but not our last, tour of the Byway.
From Canton north toward Roxbury the road traverses a series of hills, with oil derricks dotting the hillsides and hilltops. At about 7.5 miles on the byway we encountered the remains of the old dirt road, on our right. The road ran over a picturesque concrete bridge, a little stream trickling to some larger tributary somewhere, trickling into the Kansas river basin or the Arkansas River basin and thence into the Mississippi and then the Gulf. All running under this little bridge.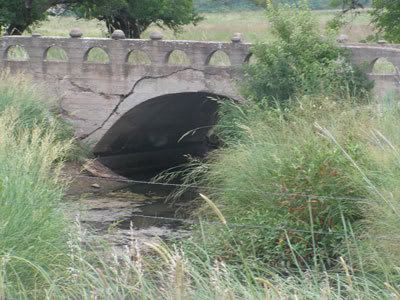 At 9 miles the road flattened out some.
Roxbury lies 11.5 miles into the trip. Rylie Renee was born to a Roxbury couple on Thursday. Her arrival was acclaimed on the sign at the junction of county roads 304 and 447. New baby tantamount to divinity.
Right at Roxbury takes you to Tampa. I've been through Tampa. I do not want to go back to Tampa. It is not on the Scenic Byway.
After stopping to photograph the ruining gas station, I went left at Roxbury and headed towards Lindsborg. A dog stepped out into the highway to make sure I did not violate his space, attempt to claim his turf. You know how dogs are about things they have marked. This dog has marked this town.
The road turned hilly again. At fifteen miles the road passes through a pretty rock formation, and you do too. The road has been cut through the rocks. The road should have gone over the rocks, but someone decided that going through was better than going over. How are these things decided? Who decided? When. I don't know. It is like the mystery of Galva.
Keep on moving.
Don't miss the old school ruins. On the left at about 16 miles there is a tumbling down wooden sectional school; a one room school house, like we saw all over the country until consolidation. Who decided that was better? I don't know. Another mystery.
From here to Lindsborg it's all rolling hills and large, green farms. Beans and milo, mostly. Some fields have been cut for hay. Large round bales of hay are lined up against the edges of the fields.
We took two side trips on the way into Lindsborg. After the byway crosses below the Interstate, it becomes Business 81. We detoured off 81 to see Lindsborg Golf course. I'm not a golfer and I had never been to the course. I went. We looked. We left.
Wildflower Road back to Old 81. At First Street exit-entrance to town, we took another detour, driving past the Old Mill Museum. Lots of folks in the museum Parking Lot. Something was going on. Wonder what? I'll probably not find out in the local newspaper. Another mystery! Chet Peterson was there, so I can ask him. I think that was Chet Peterson.
At 28.5 miles, we left Lindsborg and headed west on Kansas Highway 4. This is probably the most familiar part of the road, so it was difficult to see this with new eyes: the way we saw it when we lived in Sterling and came east on 4 into Lindsborg. The first trip east resulted in stops at farm ruins, jaw dropping amazement at the mule farm. Now, the rolling hills west of town have become a common place.
The turn to Marquette is 36 miles into the trip. Like the rolling hills surrounding Lindsborg, Marquette is a familiar and loved place. Got a great bargain on a Linda Rondstadt cd at the last Marquette wide yard sale. We bought a Marquette Commemorative plate at that same sale. I've been into the Motorcycle Museum quite a few times, and we still enjoy the Valley Cafe.
This portion of the byway is 65 miles per hour traffic. I suppose you can go slower. The tractors, combines and farmers do.
At 43 miles the byway turns right, on Kansas Highway 141, heading toward the Kanapolis dam, Kanapolis lake, and the state parks connected to the lake shore. Public restrooms in the convenience store on the west side of the road, just before you actually get to the dam.
In order to even get close to the lake shore you have to pay an entry fee. Three dollars and seventy cents, currently. Even if all you want to do is drive down by the lake, take a few snapshots and head out. Three dollars and seventy cents for your car. I'm not sure how I feel about that.
We stayed on top of the dam, looked at the lake and the causeway and shot pictures while driving at very slow speeds. It was the best we could do. We left town with very little cash, and by the time we got to Kanapolis Lake we had only three dollars left.