Bethany began its liturgical year a little early.
Generally, the liturgical year at a church college begins with opening convocation. This year it began with a eucharist giving thanks for the new President, Edward Leonard.
Doctor Leonard officially began his work as the college's 13th President today, August 1st. He began the day, fittingly enough, with a breakfast with students. Worship was second on his agenda for the day - also fittingly enough for the President of a college of the Evangelical Lutheran Church in America.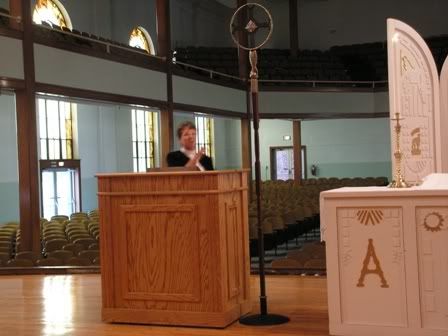 In her homily, Pastor Noni Strand stressed the large linkages that overcome the small differences between Christians, and between Christians and non-Christians. She stressed the academic side of the life of faith in her message, titled "What Does This Mean?," an allusion to Martin Luther's questions in the Small Catechism.
About two hundred people from campus and community gathered on the Presser Hall stage to sing, pray and share Holy Communion on this Wednesday morning.
While Pastor Strand alluded to the arrival of the new President as the "meaning" of this weekday worship, President Leonard was not the focus of the worship. He was part of the sermon, giving thanks for his arrival was reason for the service. He was included as one of the petitions in the prayers of the people, but he was not the focus of the half hour service. That too, is as it should be.